20.04.2022
SMCR Now! Episode 2 – Dan Ridler, MD of BCS Consulting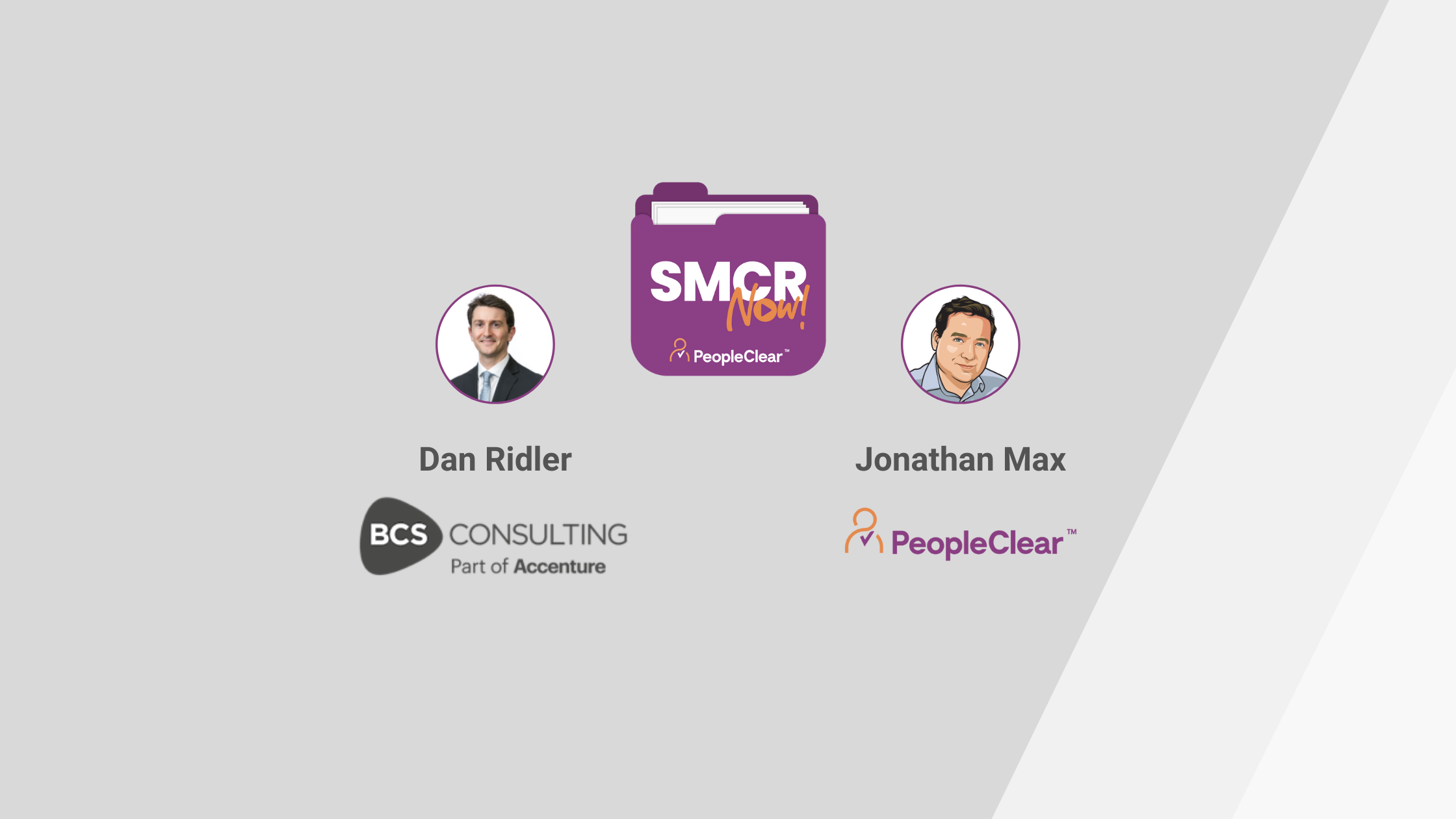 Welcome to another episode of SMCR Now. This series aims to answer the most important questions surrounding The Senior Managers and Certification Regime (SMCR) by sharing the thinking and the experiences of some of the many players involved with SMCR. You can view the previous episode here.
In this edition of SMCR Now! Andrew Lebentz is joined by Dan Ridler, Managing Director at BCS Consulting (which is now a part of Accenture), and Jonathan Max at PeopleClear SMCR. You can watch it here or read the transcript below.
HOW DOES SMCR AFFECT THE WAY THAT YOU WORK WITH YOUR CLIENTS?
Dan: I'm a regulatory and risk advisor across the financial services industry. I've worked with many firms on SMCR, so have implemented the regime into about 50 or so firms ranging from banks, to insurers to asset managers of different sizes. So I work directly with senior managers and how the regime applies to them. I help them to navigate through the regulatory landscape, keep themselves aligned to all of the regulatory expectations, make sure they meet their obligations, and ensure that they are fully discharging their accountabilities under this regime.
WHAT DOES SMCR DELIVER SPECIFICALLY FOR YOUR ORGANISATIONS? ARE THERE ANY BENEFITS?
Dan: Yes. SMCR, ultimately, drives individual accountability and clarifies who is on the hook – and for what – in every organisation that is in scope of the regime. Previously, some firms (including banks), who had recently increased in size, struggled to know exactly who's on the hook for what. This is because they didn't document it, they didn't talk it through. Under this new regime, those firms now document very clearly who is on the hook for what, there's no grey areas, there's no gaps, there's no overlap between those accountabilities. Now, if something goes wrong, there will be a single person in the firm who can be held to account for any of their wrongdoing or failures.
WHAT ARE SOME OF THE MORE CHALLENGING SITUATIONS THAT SMCR HAS THROWN UP? WHAT HAVE YOU LEARNED FROM THESE SITUATIONS?
Dan: The key lesson, for me, is that firms need to address these challenges at the time of identifying a gap in accountability, or when someone has raised issues of
clarity as to who is on the hook for this. Of course, firms need to sit down and talk about those things. The answer/excuse of "Yeah, but it's always been like that, we've never really known who owns this," doesn't really stand up in court – you've got to be able to answer to the regulators. This was the gap, this was the problem and, ultimately, this is how we addressed it.
There are other things that we have seen being addressed through the regime too, such as audit trails. This usually involves those who are maybe a bit further down in the organisation – SMCR is all about organisational change. Also, this can include conduct and culture. Firms now need to make sure that they're implementing or creating audit trails with regards to all of their considerations. They need to ask themselves: what happened, what changed? What was our outcome? What was our response or answer to this? If something went wrong from a conduct perspective, or a cultural perspective, then they need to ask: why did we consider this to be either okay or not okay?
Now firms are creating those audit trails, this is driving better behaviour front to back in these organisations. In addition, it's creating a single robust standard for firms to now adhere to going forwards, to create a consistent application of the standards and rules that apply to all of their staff.
HOW HAS THE PANDEMIC CHANGED, OR FOCUSED, THE WAY IN WHICH COMPANIES DEAL WITH SMCR-RELATED ISSUES?
Dan: So, interestingly, the regulator spoke out about SMCR before they spoke about any other regime, which emphasises its importance. This was about two/three weeks into lockdown – two years ago. So they came out and said, "We're reminding you of your obligations under SMCR." What followed on from this was, if your organisation changes at the top of the house, you need to tell the regulator before it changes. If organisation changes are happening, or annual fitness and proprietary assessments are due to be performed and completed, the regulator still expects them to discharge those responsibilities fully – and they don't care how hard you've been hit by COVID, or the challenges you have faced because of it.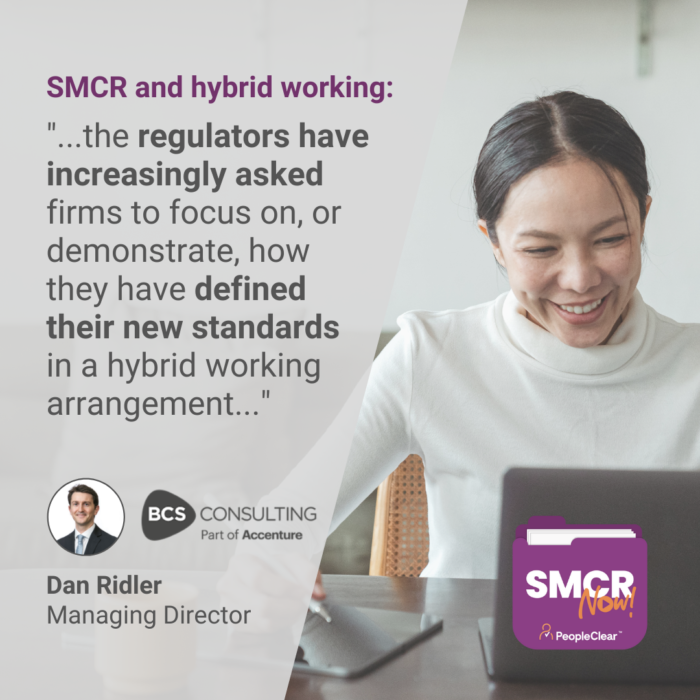 Following on from this, what's been evident over the last couple of years is that firms have had to adapt the way that they operate from both a general running the business, but also from an SMCR perspective. And, the regulators have increasingly asked firms to focus on, or demonstrate, how they have defined their new standards in a hybrid working arrangement, how they have communicated them to staff and, ultimately, how they oversee staff adherence to those standards and requirements.
WHAT PART DOES TECHNOLOGY HAVE TO PLAY? IS THERE A SOFTWARE SOLUTION TO HELPING WITH COMPLIANCE WITH SMCR?
Jonathan: As Dan's articulated, SMCR is here, it's getting more teeth, and certainly not going anywhere. And firms will now need to navigate not just how to implement, but to critically manage this on an ongoing basis. And, with the advent of more hybrid working, that's bringing that to the fore.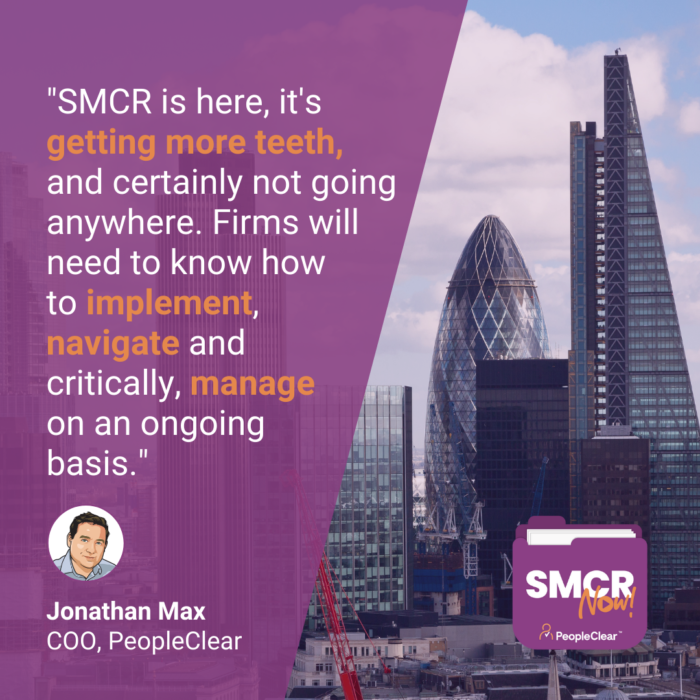 I think we all know that firms, and the people within them, are constantly changing. And this is a key challenge that needs addressing in meeting the needs of, and requirements of SMCR. We see that there's principally two options. Firstly, there is the maintenance of manual spreadsheets and processes, duplication, human error, this way of working is just not efficient. There are also the nuances of organisations, and relying on audit trails, that may not be there when using those manual processes, or using technology to manage the administration and the operational burden of SMCR. But you also need to ensure that a firm stands up to the scrutiny of the regime, that they've got everything buttoned down. It's not just for the regulator, but also the senior managers within a firm who can say with confidence to various boards and committees and clients, where the responsibilities lie, and also that they have the strong kind of operational processes to support SMCR requirements.
HOW CAN PEOPLE GET IN TOUCH TO SEE THE PEOPLECLEAR SOLUTION, AND TO ARRANGE A DEMONSTRATION?
The easiest way is through this website. There's a lot of information here while you can also book a demo. Alternative connect with us on LinkedIn or request a call back we can happily talk through how our solution may be able to help.
Join us next time on SMCR Now for more insights, more experiences, and more understanding of SMCR and how it applies across the regulated financial industry.