Key technology elements are:
ISO 27001 Certification.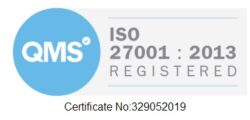 Our experienced technology partners. Fastfwd are an experienced digital agency having operated in the market for 10 years. They build and maintain websites and web applications for large companies in regulated industries, as well as undertaking digital marketing strategy and execution. Their customers include Condé Nast, UnitedHealthcare and Liberty Mutual. Fastfwd are also ISO 27001 and ISO 9001 certified.
Secure and Robust Web Application. We are proud of the technology we have used in order to offer a secure and reliable web application. All data is encrypted in transit and at rest using AES-256 and our system offers two factor authentication, adding an additional layer of security.
Amazon QLDB.



We use Amazon QLDB to provide a transparent, immutable, and cryptographically verifiable transaction log. We track data change and maintain a verifiable history of change over time.
Mobile Compatibility. Our application is fully responsive, meaning you can access our PeopleClear SMCR application from different web browsers and on different devices, including tablet and mobile.
Secure Hosting with AWS. Amazon Relational Database Service (Amazon RDS) runs on the same highly reliable infrastructure used by other Amazon Web Services.